Children
'Faith Formation is more than a subject to be taught—it is an invitation to a way of life.'   Joe Paprocki
Please see RCIA under Faith Formation or contact the Parish Office at (562) 431-0721 for more information or registration.
Pre K-8th Grade Faith Formation at St. Anne Church partners with parents.  We introduce concepts in each class that are reinforced at home throughout the year, bringing faith alive, creating a closer relationship with Jesus Christ.
Children's Faith Formation
Pre K to 8th Grade & Unbaptized Children Ages 7 and older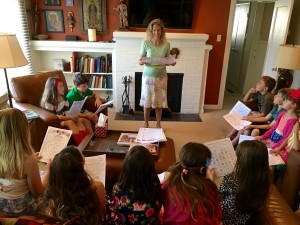 PreK-8 Faith Formation offers important fellowship, religious knowledge, and continuing faith formation for children in grades Pre-K through 8th grade. Partnering with parents, the program also prepares our youth for the Sacraments of First Reconciliation and First Communion. First Communion in our parish, and in the Diocese of Orange, is a two-consecutive-year program beginning in first grade.   We introduce concepts in each class that are reinforced at home throughout the year, bringing faith alive, creating a closer relationship with Jesus Christ.
Classes begin the 2nd week of September and through May.
Pre-K-K Class: Children's Liturgy of the Word on Sundays during mass, ages 4-6
Grades 1-5: Tuesdays 3:00-4:15
Grades 6-8: Mondays 4:00-5:15
St. Anne's parish falls within the Los Alamitos School District and the city of Seal Beach. We tailor our class days and times to coincide specifically with the LAUSD regular dismissal schedule for each grade. Late starts, early dismissals, and sporadic attendance are not permitted.
Requirements
Required first and foremost is a desire for your children to learn more about their Catholic faith and to receive their sacraments. Faith Formation is womb to tomb: all Catholics are called to continue learning about our faith for all our lives. Where children are concerned, this means continuing in classes through senior year of high school.
Additionally, the family should be registered parishioners at St Anne's Church. The parishioner registration form is available in hardcopy in the Rectory, by e-mail or can be downloaded from this web site. Weekly mass attendance by the family is expected. To enroll your child in classes, please email [email protected] and you will receive the class registration packet. There are specific deadlines for registration.
Parents' Responsibility
Parents are the primary educator in the faith for children. We introduce a subject in 75 minutes once a week. Parents are asked to review this lesson at home with their child to understand how well they know the material and also to reinforce it. Parents check their homework to make sure it's complete each week and go through the student homework folder regularly. Parents are required to attend a parent meeting in the fall. First Reconciliation and First Communion will have parent meetings and rehearsals.
Children learn by parents' example.  Parents are asked to take their children to mass each week, ensure they pray daily before bed at night, participate in the parish life of St. Anne's, and go to confession as a family at least once during the summer.
The Teacher
A Catechist (teacher) is a caring individual who is willing to volunteer and share their love of God, their faith and their time with our young people. They are not theologians but they are committed to their own growth as Catholic adults. Class time and lesson preparation take approximately 2 hours a week. Curriculum: St. Anne's uses the Sadlier series. We Believe with Catholic Identity series for grades PreK-6. Grades 7&8 use LifeTeen Edge.
Requirements for Volunteer
A registered parishioner at St Anne's Church, attending weekly mass.
With a desire to work with our parish children and help them to grow in their Catholic faith.
Complete the safe environment requirements of the Diocese (takes about 90 minutes).
If one feels called to this Ministry, they can e-mail the Pre K-K Faith Formation Office at

[email protected]

.
Our Fun and Busy Year Includes:
September: Welcome back! Classes begin
October: All Saints Day projects
November: All Saints Day mass, We Care Christmas Giving Program
December: First Reconciliation for 2nd grade, Reconciliation during class for grades 3-8, Christmas parties, Children's Christmas Eve Story and Mass
February: Circle of Grace Safe Environment Training, Mardi Gras parties, Operation Rice Bowl Lent Giving Program
March: Children's Stations of the Cross during class, Reconciliation during class before Easter for grades 2-8
May: First Communion is usually the first Saturday morning in May; Crowning of Mary Queen of Heaven; Ice Cream Sundae Party
Unbaptized Children Ages 7 Years and Older
Our community welcomes families with unbaptized children from ages 7 years and older desiring initiation into the Catholic Church. This faith formation process offers sacramental preparation to be fully received into the Catholic Church including opportunities for children to learn about the Christian way of life and our Catholic faith while preparing for the Rite of Christian Initiation at the Easter Vigil.