Community & Organizations
St. Anne's Pastoral Council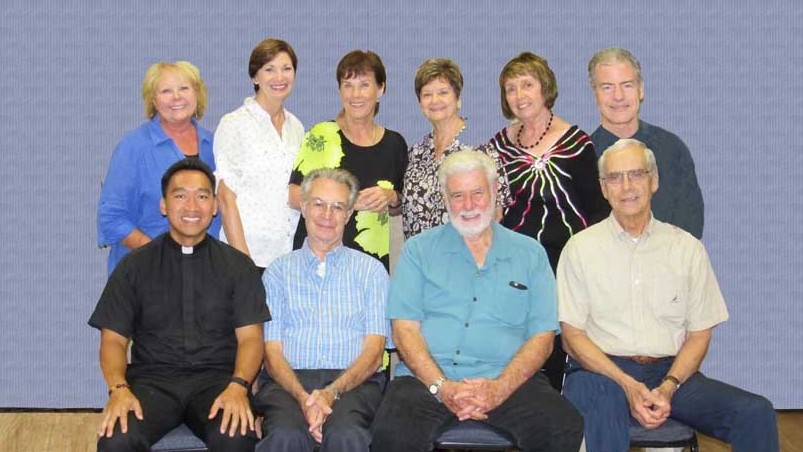 1st row: Father Ben Tran, Richard McCabe (KC Representative), Doug Stephens and John Kriss
2nd row: Karen Prochnow (WG representative), Susan Christovich, Ann McGlone, Shirl Giacomi, Marge Flannigan and Andrew Talley (moderator)
How were parishioners chosen to be part of St. Anne Catholic Church first Pastoral Council?
In Fall 2013, wanting to build on the momentum from the For Christ Forever Capital Campaign, Msgr. Mike asked two parishioners, Doug Stephen and Don Miller, to organize a process to develop a more complete Parish Pastoral Plan.  As an initial step, Doug and Don organized a series of meetings in September, October and November with more than 70 parishioner families to get a cross-section of input about the future of the parish.
Based on this survey, the planning process started on January 27, 2014, with a set of 12 meetings planned to be complete by the end of June.  A set of volunteers—Susan Christovich, Marge Flannigan, Shirl Giacomi, John Kriss, Ann McGlone, and Doug Stephen—joined Msgr. Mike, Fr. Duy and Fr. Bob to develop a set of priorities that would enhance the parish and increase engagement for an even broader set of parishioners.  Don Miller acted as facilitator for the planning process, and the group came to be known as the "Monday Group" since that was the day for most meetings.
The result was a Draft Parish Plan was complete by June, and plans made to review the initial plan with a cross-section of parishioner groups.  After those reviews, a final version of the Parish Plan was revised and further modified over the Summer by the Monday Group.  By the Fall of 2014, the plan was ready to communicate parish-wide using the Bulletin, email, mail and open meetings in The Hall.
One of the elements of the Parish Plan was the formation of a Parish Pastoral Council.  After the months of input and involvement in the planning process, it was natural for Msgr. Mike to build on those relationships and ask the volunteers for the Monday Group to become the initial group of council members.  All members said yes to this invitation.  The term of service is for three years, but this initial group will serve terms of 2-4 years, allowing continuity as new members join the council in the future.
Msgr. Mike also asked Andy Talley to join the group as moderator.  The Women's Guild, the Knights of Columbus, and the Youth Ministry's Lighthouse Leadership Team were each invited to select a representation to serve for a year.
The Council had its first meeting on April 11, 2015 and will continue to discuss and advise Msgr. Mike on what is truly important to the parish, what set of priorities make for the best use of time and resources, and what is the roadmap for the near and long-term future of our faith community.
For more information about Pastoral Council please contact the office: (562) 431-0721.